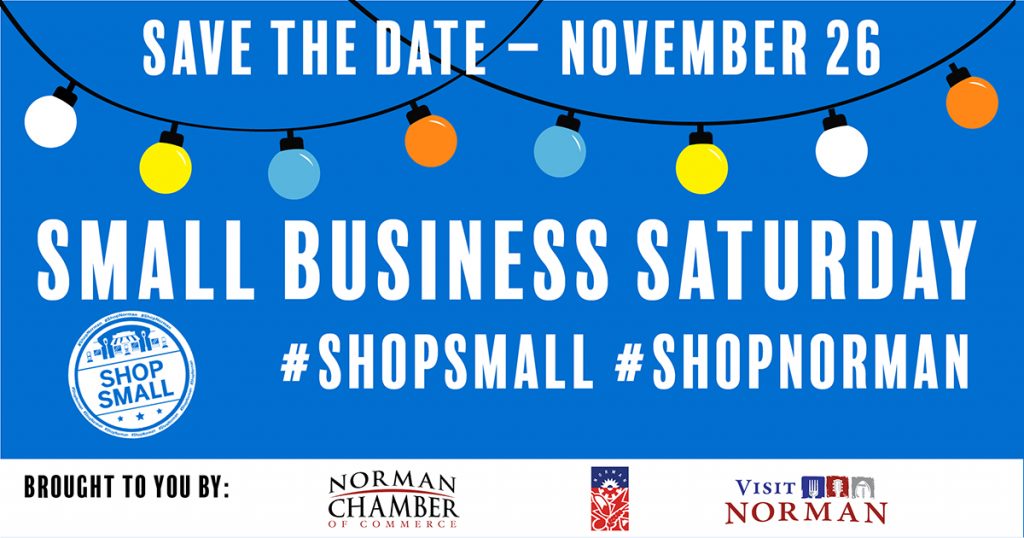 2022 Small Business Saturday, Nov. 26
Your Norman Chamber of Commerce, VisitNorman and the City of Norman are once again partnering to bring you Small Business Saturday as a way to boost holiday shopping by encouraging people to #ShopSmall #ShopNorman.
#ShopNorman first!
You will be surprised by the diversity and quality of items you will find at locally owned stores. Local stores spend a lot of time and effort to find things that you don't see at the larger chain stores.
You know that your Norman sales tax dollars help provide basic safety services and improve quality of life. But shopping Norman also means you help ensure that your favorite locally-owned boutique that carries unique, one-of-a kind goods can keep their doors open for another year.
The Norman Chamber of Commerce encourages residents to #ShopNorman today and every day!
Cleveland County Craft Show
9 a.m. - 4 p.m.
Cleveland County Fairgrounds
615 East Robinson
If hand-crafted items are what you are looking for, the annual Cleveland County Craft Show will be running Nov. 25-26 and Dec. 10. The Cleveland County Fairgrounds has been home to this local craft show for over 33 years.
These craft shows are filled with a wide variety of hand-crafted and market items from more than 90 vendors.
Holidays at the Well
5 - 9 p.m.
The Well
210 James Garner Ave.
The first day of Norman's Twilight Market "Holidays at the Well Part One" shopping event will be Nov. 26. More than 50 local vendors will be gathered at The Well for an evening of shopping, good food and music beginning at 5 p.m.
The fun continues  on December 11 with more shopping and photos with Santa for both the kids AND the fur babies!
| | | |
| --- | --- | --- |
| Arts & Entertainment | Oil & Clay | 410 East Main St |
| Arts & Entertainment | Pinot's Pallete | 228 East Main St |
| Arts & Entertainment | Sooner Bowling Center | 550 24th Ave NW |
| Arts & Entertainment | Tribes 131 Gallery | 512 West Main St |
| Brewery | 405 Brewing | 1715  Topeka Dr |
| Brewery | B.I.G. Brewing Co. | 216 East Main St |
| Brewery | Black Mesa Brewing | 3901 North Flood Ave |
| Brewery | Crossed Cannons Brewery | 333 West Boyd St |
| Brewery | Equity Brewing | 109 East Tonhawa |
| Brewery | Lazy Circles Brewing | 422 East Main St |
| Food & Beverages | Apple Tree Chocolate | 209 East Main St |
| Food & Beverages | Artisan Pride | 1965 West Lindsey St |
| Food & Beverages | Beanstalk Coffee & Sno | 3408 36th Ave NW, Suite 124 |
| Food & Beverages | Benvenuti's | 105 West Main St |
| Food & Beverages | Bison Witches | 211 East Main St |
| Food & Beverages | Blackbird Gastro Pub | 575 South University Blvd |
| Food & Beverages | Blu | 201 South Crawford Ave |
| Food & Beverages | Café Saffron | 770 Deans Row Ave |
| Food & Beverages | Carol's Kitchen | 2620 Classen Blvd, Suite 100 |
| Food & Beverages | Classic 50's  | 1521 West Lindsey St |
| Food & Beverages | Dara Marie's | 1420 North Porter Ave |
| Food & Beverages | Das Boot Camp | 229 East Main St |
| Food & Beverages | Diamond Dawgs | 753 Asp Ave |
| Food & Beverages | Forward Foods | 215 West Main St |
| Food & Beverages | Gaberino's | 400 Ed Noble Parkway |
| Food & Beverages | Gray Owl Coffee | 223 East Gray St |
| Food & Beverages | Greek House | 768 Jenkins Ave |
| Food & Beverages | Gringo Girl | 924 West Main St |
| Food & Beverages | Legends  | 1313 West Lindsey St |
| Food & Beverages | Michalangelo's Coffee | 207 East Main St |
| Food & Beverages | O'Connell's  | 769 Asp Ave |
| Food & Beverages | Okie Baking Co.  | 231 West Main St |
| Food & Beverages | Pepe Delgado's | 786 Asp Ave |
| Food & Beverages | Rusty's Custard | 301 East Main St |
| Food & Beverages | Scratch Kitchen & Cocktails | 132 West Main St |
| Food & Beverages | Sergio's Italian Bistro | 104 East Gray St |
| Food & Beverages | The Baked Bear | 731 Asp Ave, Suite B |
| Food & Beverages | The Brewhouse | 110 West Main St |
| Food & Beverages | The Diner | 213 East Main St, Suite B |
| Food & Beverages | The Earth | 309 South Flood Ave |
| Food & Beverages | The Meating Place | 121 East Main St |
| Food & Beverages | Victoria's the Pasta Shop | 215 East Main St |
| Food & Beverages | Yellow Dog Coffee Company | 1230 Alameda St |
| Food & Beverages | Yellow Dog Coffee Company | 222 South Porter Ave |
| Service | 2 Green Chicks | 267 34th Ave SW |
| Service | Clementine Hair Lounge | 740 West Main St |
| Service | Don's Mobil Lock Shop | 323 East Daws St |
| Service | King Kopy, LLC | 119 West Boyd St, Suite 112 |
| Service | Lion Salon | 3720 West Robinson St, Suite 130 |
| Service | Westwood Veterinary Hospital | 111 North Mercedes |
| Service | Wireless Solutions & Accessories (WSA) | 750 Asp Ave |
| Service | Yard Signs by Jen | mobile |
| Retail Shop | 13 Vapor Co | 1004 24th Ave NW, Suite 104 |
| Retail Shop | A1 Pet Emporium | 3700 W Robinson St,  Suite 148A |
| Retail Shop | Apothem on Campus Corner | 733 Asp Ave |
| Retail Shop | Artifactory | 106 East Main St |
| Retail Shop | Balfour Of Norman | 792 Asp Ave |
| Retail Shop | Bella Rose Bridal | 2001 West Main St, Suite 125 |
| Retail Shop | Blueberi Lane | 730 Asp Ave, Suite 100 |
| Retail Shop | Blush | 566 Buchanan Ave |
| Retail Shop | Branded Apparel | 320 White St |
| Retail Shop | Brockhaus Jewelry | 2107 West Main St |
| Retail Shop | Browns Shoe Fit | 2427 West Main St |
| Retail Shop | Buchanan Bicycles | 561 Buchanan Ave |
| Retail Shop | Cayman's | 2001 West Main St |
| Retail Shop | Christmas Expressions | 2214 West Lindsey St |
| Retail Shop | Copelin's/Kidoodles | 425 West Main St |
| Retail Shop | Donate  A Miracle Thrift Shop | 315 Alameda St |
| Retail Shop | Flawless Fashion | 1716 West Lindsey St |
| Retail Shop | Guestroom Records | 125 East Main St |
| Retail Shop | Henry Home Interiors | 3720 W Robinson St, Suite 112 |
| Retail Shop | human interaction | 224 East Main St |
| Retail Shop | J-Byrd Boutique  | 330 East Gary |
| Retail Shop | Max Mamas | 2214 Tecumseh Drive |
| Retail Shop | Mister Robert Fine Furniture and Design | 109 East Main St |
| Retail Shop | Mitchells Jewelry | 2201 West Main St |
| Retail Shop | Occasions | 2001 West Main St, Suite 119 |
| Retail Shop | OK Runner | 3408 36th Ave NW, Suite 100 |
| Retail Shop | OSC-Press | 325 East Main St |
| Retail Shop | Robinson's Repurposed | 300 East Main St |
| Retail Shop | Rose Rock Habitat for Humanity ReStore | 1110 West Main St |
| Retail Shop | Saavy | 761 Asp Ave |
| Retail Shop | Sandalwood & Sage | 322 East Main St |
| Retail Shop | Sea Shanty | 116 East Main St |
| Retail Shop | Sewciety Quilt Co. | 111 24th Ave NW, Suite 110 |
| Retail Shop | Sooner Pharmacy | 1811 West Lindsey St |
| Retail Shop | Spiritz N'Wine | 1246 North Interstate Dr |
| Retail Shop | STASH | 412 East Main St |
| Retail Shop | The Apothem | 784 Asp Ave |
| Retail Shop | The Cigar Co.  | 1244 North Interstate Dr |
| Retail Shop | The Clothing Bar | 2001 West Main St, Suite 103 |
| Retail Shop | The Friendly Market | 301 South Porter Ave, Suite 130 |
| Retail Shop | the International pantry | 1618 West Lindsey St |
| Retail Shop | Tulips | 570 Buchanan Ave |
| Retail Shop | Wunderhaus Furniture Consignment | 1284 North Interstate Drive |
| Special Event | New in Norman 2022: Gallery Pop-up | 2001 West Main St, Suite 115 |
| Special Event | Cleveland County Christmas Craft Show | 615 East Robinson |
| Special Event | Norman Twilight Market | 210 James Garner Ave |
| Wellness | Aura Day Spa | 2001 West Main St |
| Wellness | Coredination Pilates | 128 East Main St |
| Wellness | Gallion Sports Nutrition | 2228 West Main St |
| Wellness | iMed Equip | 3750 West Robinson St , Suite 150 |
| Wellness | Le Visage Day Spa | 3700 West Robinson St, Suite 110 |
| Wellness | Nature Day Spa | 301 South Porter Ave |
| Wellness | Orange Theory Fitness | 3700 W. Robinson St, Suite 143 |
| Wellness | Prairie Rose Wellness & Beauty | 120 E Tonhawa St, Suite 102 |
| Wellness | Space Yoga | 3770 West Robinson St |
| Wellness | Stretch Lab Norman | 1636 24th Ave NW |