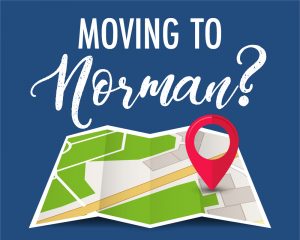 Welcome to Norman! Whether you are new to the area or are returning, we are excited to have you move to our community. Ever since Norman was founded as a frontier town in 1891, this thriving community has set itself apart with a vibrant downtown, the University of Oklahoma, a robust public education system, and a diverse population.
Relocation Helpful Resources
Relocating to a new community can be a busy time, and finding local businesses to meet your moving needs can just add to your stress level. So we've done the work for you! Below please find a list of helpful local businesses to call for your financial, health, entertainment and home needs.