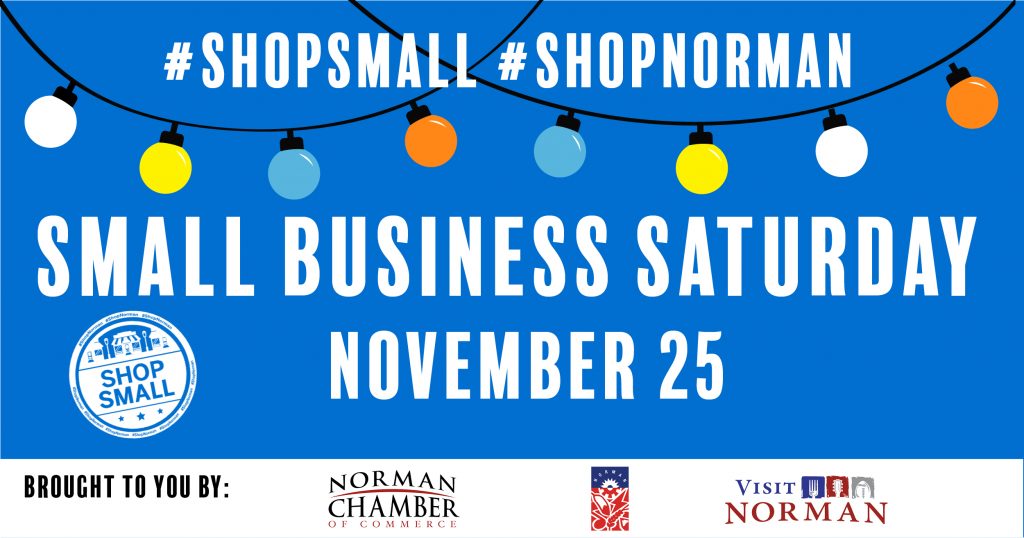 2023 Small Business Saturday, Nov. 25
Your Norman Chamber of Commerce, VisitNorman and the City of Norman are once again partnering to bring you Small Business Saturday as a way to boost holiday shopping by encouraging people to #ShopSmall #ShopNorman.
#ShopNorman first!
You will be surprised by the diversity and quality of items you will find at locally owned stores. Local stores spend a lot of time and effort to find things that you don't see at the larger chain stores.
You know that your Norman sales tax dollars help provide basic safety services and improve quality of life. But shopping Norman also means you help ensure that your favorite locally-owned boutique that carries unique, one-of-a kind goods can keep their doors open for another year.
The Norman Chamber of Commerce encourages residents to #ShopNorman today and every day!
13 Vapor Co - 1004 24th Ave NW

Buy one, get one ½ off on most all items storewide and specials on other items. Specials on Friday & Saturday

(405) Brewing Co. - 1716 Topeka Street

Friday, November 24 & Saturday, November 25: Special beer release & pricing only available at (405) Brewing Co.!

Cinnamon Chills 2023 - $16/can while available. $2 discount! (3-year rye whiskey barrel imperial stout with cinnamon and ancho chili)
Cosmo Hops 4-pack & custom glass combo - only $28! (Smoothie sour packed with 176 lbs of blackberry)
Magic Whip 4-packs - only $20 while available! (Sweet pineapple soft serve sour beer)
Bring 25 recyclable plastic can toppers to the taproom and get a free pour!

Find (405) Brewing at the Norman Twilight Market - Holidays at the Well, Saturday, November 25.
Cleveland County Craft Show
9 a.m. - 4 p.m.
Cleveland County Fairgrounds
615 East Robinson
If hand-crafted items are what you are looking for, the annual Cleveland County Craft Show will be running Nov. 24-25 and Dec. 9. The Cleveland County Fairgrounds has been home to this local craft show for over 34 years.
These craft shows are filled with a wide variety of hand-crafted and market items from more than 90 vendors.
Holidays at the Well
5 - 9 p.m.
The Well
210 James Garner Ave.
The first day of Norman's Twilight Market "Holidays at the Well Part One" shopping event will be postponed until Dec. 3. More than 50 local vendors will be gathered at The Well for an evening of shopping, good food and music beginning at 5 p.m.
The fun continues  on December 10 with more shopping and photos with Santa for both the kids AND the fur babies!